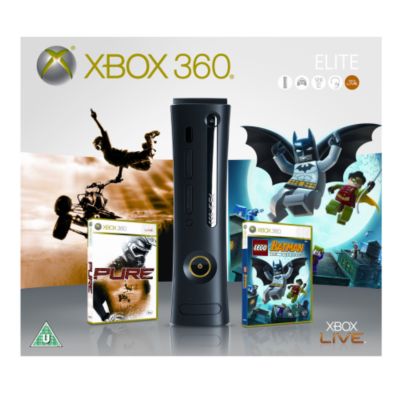 Having just updated the console prices section of the site we have found the following bundle offer for the Elite version of the Xbox 360 priced at £149.99 which includes an extra 2 games free.
This is the cheapest Xbox 360 Elite around at the moment by far with other retailers selling it for around £175 with no extra games making this bundle great value for money.
The extra games included are: Pure and Lego Batman.
The reason? The Xbox 360 Slim is on its way and pre-orders are currently being taken so it is likely that Sainsbury's are shifting stock ready for the updated model. If you don't mind not having the new version then this is currently £50 lower than the anticipated selling price of the new Xbox 360 Slimline which is expected to retail for around £199.99 when it hits the shops next month.
Weighing this offer up against the others around at the moment this seems to be the best value Xbox 360 around at the moment.
If you do happen to come across a better deal or in fact any deal that you feel we should feature on the site then please do get in touch by adding a comment below.